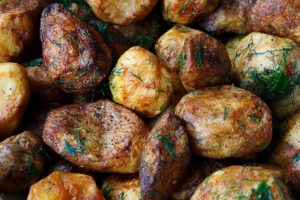 What you need:
3 pounds small red potatoes
1 large sweet onion
1/4 cup vegetable oil
1/4 cup butter
Large bag (enough to trap air for shaking the mixture)
2 TBS Spark Spices Savory Spark
How to cook:
Slice potatoes and onions into 1/4″ slices. Place in large bag.
Add vegetable oil and Savory Spark to the bag.
Trap air in bag and shake the mixture for about a minute, make sure potatoes and onions are evenly coated.
Spray a large frying pan with with PAM (or any vegetable oil spray).
Add mixture and cook over medium heat, mixing often, until potatoes are cooked through.
When potatoes are done cooking, melt the butter and pour over, and mix into, the potatoes.
Enjoy!