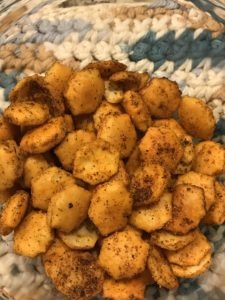 What you need:
1 9 oz bag of oyster crackers
1/4 vegetable oil
3 tbsp Parmesan cheese
4 tbsp Spark Spices Italian Blend
1/4 tsp garlic powder
1 1/2 tsp oregano (optional)
How to Make:
Mix all together, except oregano, in a large bowl until coated.
Bake at 350 for 5-7 minutes.
Stir and cook for an additional 3 minutes.
When done, remove from oven and sprinkle with a little more Italian Blend and oregano.
Put in an airtight container.
Enjoy!