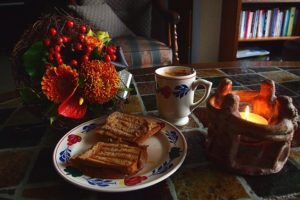 What you need:
Spoonful of butter
Chopped bread
One egg
Three tablespoons of milk
One tablespoon of brown sugar
How to Make:
Rub the bottom and sides of a mug with a spoonful of butter.
Fill to the top with chopped up bread.
In a separate mug, mix one egg, three tablespoons of milk, one tablespoon of brown sugar.
Sprinkle generously with Cinnamon Sparkle.
Pour over bread.
Microwave for one minute.
Before serving, sprinkle a bit more Cinnamon Sparkle on.
Enjoy!